- 11 april 2023 - Safe Motherhood National Day in India
Being a mother should be a gift, not a risk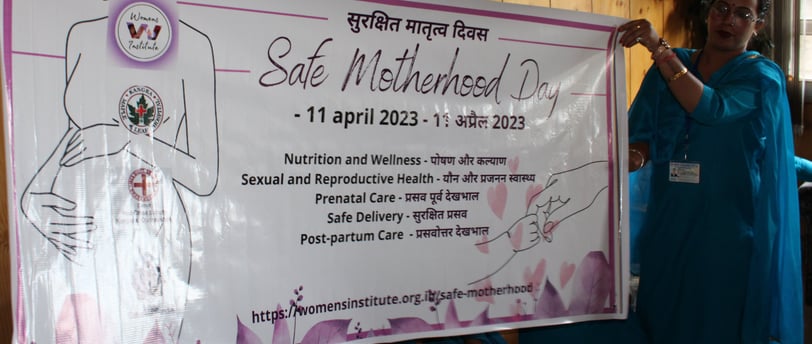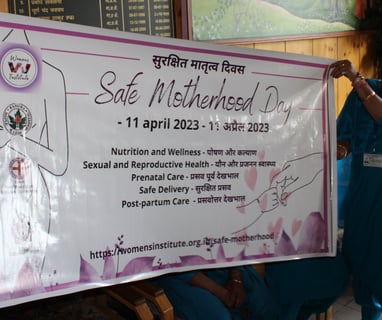 No young woman or woman should be left behind, each one counts and should be considered and supported in all the experiences she goes through in her life. The idea of motherhood is an integral part of a woman's life, whether it is wanting to prevent pregnancy or becoming a mother
On Tuesday 11 April, India celebrated Safe Motherhood national day to promote maternal health and safety. Mothers are the pillars of the life cycle.
Beyond their physical capacity, mothers are the protectors, the guardians, the tutors, the teachers in every aspect of a child's developmental growth - social, emotional, physical, cognitive and independence. They are the ones who stand at the forefront of the child's development into an autonomous and responsible adult.
Unfortunately, pregnancy is still a major risk for women today because they do not necessarily have access to the necessary information or medical care. Lack of knowledge and unspoken messages about motherhood health are dangerous because they prevent expectant and new mothers from acting in an informed way and protecting themselves and their newborns.
This is why it was important for the newly formed Women's Institute to come together on 11 April 2023 to promote better medical care for all pregnant women and new mothers. We introduced the Women's Institute to DC Office of Kangra District in their office in Dharamsala. This visit was supported by the Self Help Group ( SHG ) SEHAT SEVA, a local initiative that aims to serve the cause of women's empowerment by training women to care for the elderly at home. This is another project of the NGO EduCARE that we will tell you about in a future article.
To briefly review the history of safe motherhood day, this event was first celebrated in 2003 under the initiative of the White Ribbon Alliance India (WRAI) and with the support of the Indian government.
The date of 11 April is a tribute to Kasturba Gandhi, born on 11 April 1869, the wife of Mohandas Karamchand Gandhi, who is considered the father of the Indian nation. She was a highly respected political activist among her peers, and also worked to make medical care more accessible to all women.
Behind this initiative, what is most important is the desire to emphasize the importance of ensuring that women have access to adequate care throughout pregnancy, childbirth and the postnatal period.
Kasturba Gandhi ( 1869 - 1944 )
Indeed, India has one of the highest maternal mortality rates in the world, with 12% of all maternal deaths occurring in the country, still in 2022.
Maternal Mortality Ratio ( MMR ) of India for the period 2016-18, as per the latest report of the national Sample Registration system ( SRS ) data is 113/100,000 live births. Although this ratio has decreased significantly in recent years, thanks in part to government initiatives to provide access to quality health care for all, it remains a concern.
But the good news is that the direct causes of maternal deaths are well known and largely preventable and treatable.
Indeed, most of these deaths can be prevented with the use of right healthcare solutions to avoid or manage many complications during pregnancy, childbirth and the postpartum period. Therefore, it is essential for women to be aware of the care they need throughout pregnancy, delivery, and postpartum to ensure a safe and healthy motherhood experience.
The Women's Institute intends to be the voice of the 3rd Sustainable Development Goals ( SDG's ) decided by the United Nations in its agenda for 2030 :
=> To ensure healthy lives and promote well-being for all at all ages.
The first two targets are
. By 2030, reduce the global maternal mortality ratio to less than 70 per 100,000 live births ( In 2021, the global maternal mortality ratio was 159 per 100,000 live births )
. By 2030, end preventable deaths of newborns and children under 5 years of age, with all countries aiming to reduce neonatal mortality to at least as low as 12 per 1,000 live births and under-5 mortality to at least as low as 25 per 1,000 live births
Access to information is an essential pillar in the reduction of risks during pregnancy, delivery and the post-partum period, particularly in terms of nutrition, but also in terms of care, body care and monitoring the risks of infection. We have divided the concept of safe motherhood into five different topics:
. nutrition and wellness
. sexual and reproductive health
. prenatal care
. safe delivery
. postpartum care
The Women's Institute online platform provides external links to articles, videos, booklets, free courses to support women during pregnancy
( https://womensinstitute.org.in/safe-motherhood )
Finally, it is important to remember that being a mother should never be a foregone conclusion, but a personal, conscious choice, free of all constraints.
A woman's life is not limited to her ability to give birth or to her role as a mother, being a woman is much more than that and it is not because a woman can carry a child that she must necessarily do so. Giving life is a gift but not an obligation!
Below is a link to an external audio resource in english that expands on the pressure women can sometimes feel about motherhood.
Masala podcast - Pragya Agarwal - Are women pressured into motherhood ? S4 ep2
( https://www.soulsutras.co.uk/pragya-agarwal-masalapodcast-season4/ )