Women's Institute, the launch of a project for the future of women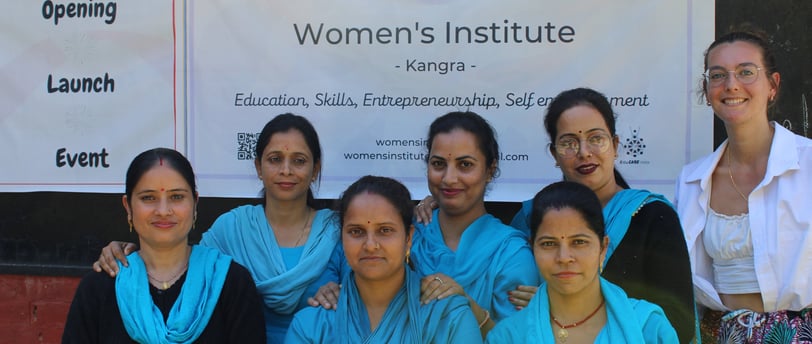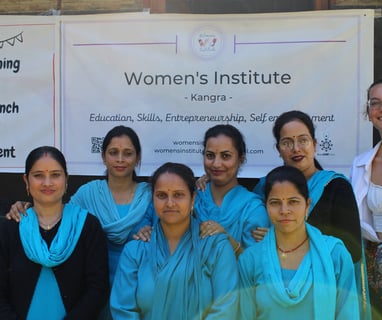 We thought it, we imagined it, we dreamed it, and now it's here.
On Friday 7 April 2023, we gathered to inaugurate the new Women's Institute in Kangra. It was under the sun that we discovered the banner and launched the start of a beautiful adventure, on the way to a more inclusive world. After years of intellectual maturation and months of hard work, we are proud to present you with the concrete outcome of the values we hold dear.
Indeed, this desire to support women's empowerment is not new. A few years ago, we launched the Young Women's Association project, followed by the Young Women's Idea digital platform (http://youngwomensidea.blogspot.com/) and, a little later, the Young Women's International Institute. All these experiences have enriched us a lot. We launched initiatives at grassroots level, experimented with ideas, learned from our mistakes, but above all, pushed our thinking further on the main obstacles that prevent women from fully expressing their leadership. This long and instructive journey has led us to today's Women's Institute.
This institute aims to provide all women with resources and courses that lead them on the path to empowerment. We can't walk in your shoes, but we can provide you with the help you need to make the journey easier. You also have to do your part, your destiny is ours if you decide to do so, empowerment is above all a daily attitude, but the women's institute is also there to accompany you.
Via the Women's Institute, but especially via its digital platform, we will :
. to offer online courses but in the long term, also face-to-face
. to make digital resources available to all to facilitate access to knowledge (different formats are available = books, podcasts, novels, foreign literature ...)
. to support women's desire for emancipation and innovation by offering training programmes in entrepreneurship and micro-finance
to offer a space for exchange and proposals for initiatives, to highlight the experiences of inspiring women
=> In short, to help women from all walks of life to become aware of their potential and to let their leadership flourish.
Today, we have planted a seed destined to become a tree. And we hope that this future tree will also produce seeds that will spread to form a forest. This forest will produce the oxygen that allows us to live or provide shade and coolness. But for this to happen, we need you to be the stakeholders of this building. Each of you at your level can water this seed and participate in its development as you will participate in your own development.
Believe in yourself, believe in building together !